Notes:
Chivalry consists of ten more or less connected short stories, supposedly translated and adapted from the works of the (fictional) medieval poet Nicolas de Caen. The dedicatee, Anne Branch Cabell, was Cabell's mother.
Contents:
Precautional
The Prologue
The Story of the Sestina
The Story of the Tenson
The Story of the Rat-Trap
The Story of the Choices
The Story of the Housewife
The Story of the Satraps
The Story of the Heritage
The Story of the Scabbard
The Story of the Navarrese
The Story of the Fox-brush
The Epilogue

Nine of these stories were originally published in Harper's Monthly magazine between 1905 and 1909, as follows:
"The Fox-Brush" August 1905
"The Sestina" January 1906
"The Housewife" August 1906
"The Tenson" December 1906
"The Navarrese" September 1907
"The Rat-Trap" December 1907
"The Choices" March 1908
"The Scabbard" May 1908
"The Satraps" April 1909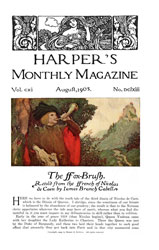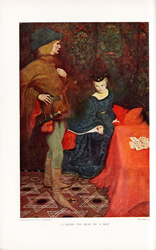 The shorter than usual "Story of the Heritage" was written to provide a transition between "The Story of the Satraps" and "The Story of the Scabbard" in the published book. "The Story of the Tenson" contains three stanzas from the poem "The First Maid," which was previously published in The Bomb VMI in 1901. 
A selective list of reviews of Chivalry (with brief excerpts) can be found in Duke, 1979: pp.7-9 (for the original edition) and p.27 (for the revised edition). Mark Twain was an early Cabell admirer (see the Note for The Line of Love) and was said to have described the stories in Chivalry as "masterpieces ... wonderfully well written." (Quoted in letter from Harper's editor Eugene Saxton to Cabell  in 1920; see Langton, 2009, p.45.)
When Chivalry was revised in 1921 it was provided with a subtitle, Dizain des Reines.  The revised edition also features an introduction by Cabell's friend Burton Rascoe, to whom he had dedicated Jurgen. Cabell provides a commentary on this book in his Author's Introduction to the Storisende Edition (1929); the commentary was reprinted in a slightly revised form in Preface to the Past (1936). In a letter to Julius Rothman, Cabell stated, "…the germ of every one of the Chivalry stories can be, and was, found in Agnes Strickland's Lives of the Queens of England…" (see Wagenknecht, 1975, p.233). Cabell's six volume set of Strickland (revised edition, 1901) is now housed in the library at VCU (see Duke 1968, p.265).