General Notes:
The Modern Library printings of James Branch Cabell's works present one of those rare cases where today's bibliographic knowledge has superseded Hall's work of forty years past. Today, collectors and scholars of The Modern Library usually don't try to differentiate the various ML printings, except to note the first printing, and then only in those cases where it is possible to determine. Instead, the various issues of ML titles are ordered by the chronological sequences of binding, endpaper, and title page styles, and by the Modern Library catalog listings (usually) found at the end of each volume.
Our Silver Stallion bibliography is intended to be a complete bibliography of James Branch Cabell, though, and our goal is to be as inclusive and detailed as possible. For that reason, we have taken a completist approach, and listed our entries by printing, in the same manner as the rest of the bibliography. We realize that this is a task that can never be declared 100% complete, though, and welcome corrections, updates, and new information from our readers.
A Comparison of Hall's Coding Scheme with The Silver Stallion's updated version:
Hall CoJ-D1 (ML) - no change
Hall CoJ-D2 (ML) - no change
Hall CoJ-D3 (ML) - The Silver Stallion has not seen a copy of The Cream of the Jest that matches Hall's description of the "third" Modern Library printing. His description states that it is bound in imitation leather, has the copyright notice on the title page verso, but does not state First Modern Library Edition, as do the first two ML printings. The lack of the first edition notice differentiates it from the first two printings, the presence of the copyright notice distinguishes it from the fourth printing, and the binding separates it from the fifth and later printings.
Hall CoJ-D4 (ML) - no change at this time. However, it's worth noting that the later printings do have the copyright notice, and so match Hall's third printing, not his fourth. See the discussion on rule damage below for more considerations.
Hall CoJ-D5 (ML) - Hall lumps all printings bound in cloth into a single fifth printing. We have identified five different printings in three different cloth bindings, CoJ-D5 (ML) through *CoJ-D9 (ML).
In his descriptions of CoJ-D3 and D4, Hall briefly mentions Matthew Bruccoli's (in his Notes on the Cabell Collections at the University of Virginia, Hall F5) identification of rule damage on pages 154 and 250 as keys to distinguish between printings. Hall states that the rule damage on page 154 is first noted in the third printing, and the rule damage on page 250 in the fourth printing.
Bruccoli mentions three Modern Library printings. The earliest, which he describes as the 5th(?) Impression (i.e., the fifth printing he identified in the UVA Collection) is noted as stating First Modern Library Edition, and so would be either CoJ-D1 or D2. He uses rule damage on page 154 to distinguish his 6th(?) Impression. This presumably matches Hall's CoJ-D3. He then goes on to note further rule damage on page 250 to identify his 7th(?) Impression, which Hall identifies as his fourth printing, CoJ-D4 (ML).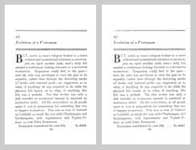 The rule damage on page 154 is clear. The page at left is from the first Modern Library printing, CoJ-D1 (ML). Page 154 in the second printing is identical. At right, page 154 from the fourth ML printing, CoJ-D4 (ML). Page 154 is the later printings is more-or-less the same. According to Hall, this damage is also present in CoJ-D3 (ML).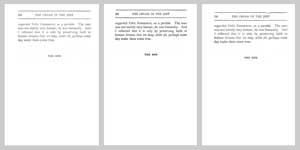 The rule damage on page 250 is less straightforward and obvious, as is shown in the comparison at right. The page on the left in this picture is from CoJ-D1 (ML). No rule damage is noticeable. According to Hall, the rule damage first appears in CoJ-D4 (ML). The center page is from the fourth printing, and while there is in fact some damage, it is minor. It seems hard to accept that Bruccoli would have considered such miniscule damage as significant enough to use as a dating key, but who knows? It is only in the fifth printing, CoJ-D5 (ML), that significant rule damage appears (and is present in all later printings we've seen). What is clear is that more research is needed, and that we need to examine a copy of CoJ-D3 (ML). Can any reader help?
You will find many names and terms that are specific to Modern Library collecting sprinkled liberally throughout our Modern Library pages. See the Cabell in The Modern Library page for detailed discussions of these special terms.