Notes:
In accordance with Cabell's principal of literary economy and his skill at recycling his literary output, Straws and Prayer-Books incorporates numerous previously published short stories, essays, and introductions:
"Rogue's March: To a Flemish Air", The Dial, February 22, 1919
"In Respect to Joseph Hergesheimer", The Bookman, Nov-Dec, 1919
"It is of Linda", The Bookman, January, 1920
"The Delta of Radegonde", Vanity Fair, June, 1921
"Beauty and Wizardry", The Nation, November 2, 1921
"The Appeal to Posterity", The Literary Review, March 25, 1922
"A Note on Alcoves", The New Republic, April 12, 1922
"The Thin Queen of Elfhame", The Century, December, 1922
Introduction to Modern Library Edition of The Queen Pédauque, Hall A7, by Anatole France, New York, 1923
"Portrait of the Artist: Full Length", International Book Review, November, 1923
"Once More, the Immortals", The American Mercury, January, 1924
Introduction to A Round Table in Poictesme, Hall A8, Cleveland, 1924
"Romantics about Them", The Literary Review, March 1, 1924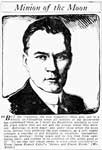 This book review by Leonard Cline first appeared in the St. Louis Post-Dispatch, Dec. 6, 1924. Leonard Cline (1893-1929) was an American poet, novelist, and journalist. One of his novels, The Dark Chamber, was praised by H.P Lovecraft in his long essay, "Supernatural Horror in Literature." The scan of this review was provided to The Silver Stallion by Douglas Anderson.