The Silver Stallion
James Branch Cabell : An Illustrated Bibliography
SONNETS FROM ANTAN, with an editorial Note by James Branch Cabell
| | |
| --- | --- |
| James Hall Code | Description |
| SFA-A1 | |
Specimen Leaf: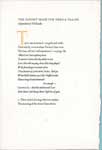 A bibliographic curiosity only. A specimen leaf folded to make four unnumbered pages. Page [i] contains The Sonnet made for Nero & Villon, page [ii] blank, page [iii] contains the first page of Notes to the Sonnet made for Maya, page [iv] the remaining page of Notes to the Sonnet made for Maya. The entire item is provided here as a PDF; as usual you'll need to use your browser's BACK button to return to The Silver Stallion after accessing it.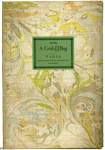 A Grab[Horn] Bag, Original Pages Found by Excavators at 642 Commercial Street, San Francisco (Heller & Magee No. 350). This small folio (12¼ in. x 8¾ in.) was issued in 1940 in an edition of 200 copies, not for sale. The folio included approximately 15-18 specimen leaves and pamphlets (the number varied) produced at The Grabhorn Press 1928 to 1940, in a quarter white cloth and simulated marbled paper portfolio. Also included was a specially printed title leaf, the verso of title page reading PAGES FROM VARIOUS BOOKS | PRINTED AT | THE GRABHORN PRESS | SAN FRANCISCO | 1928-1940. Although the contents varied, the half-title leaf from Sonnets From Antan, signed by Mr. Cabell, was one of the leaves found in some copies of the folio. It is not, unfortunately, present in the copy shown here.
Note:
Sonnets from Antan was reprinted in The Storisende Edition, bound into Volume XVIII along with Townsend of Lichfield (ToL-A1, 1930).
An unnumbered, out-of-series copy has been noted with two different colophons, one as usual and the second with minor textual variations.